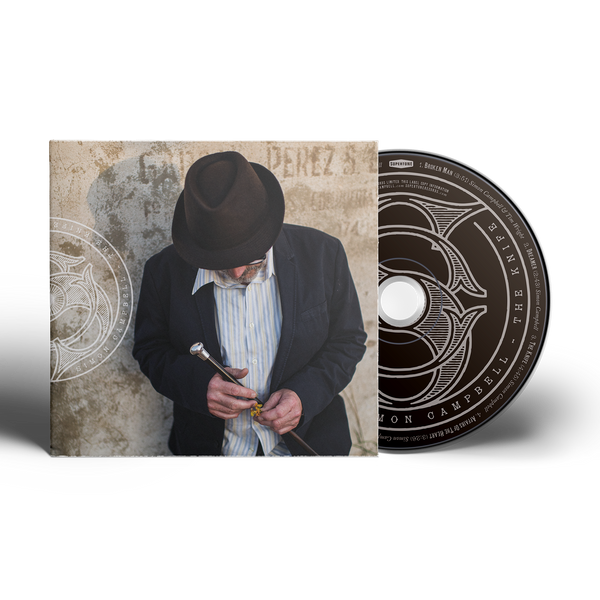 The Knife | Simon Campbell | album | CD
Downloads include choice of MP3, WAV, or FLAC
The Knife - songs about real people and places: the observations of a Northern Man.

'The Knife' is the second solo album release from British & European blues award nominee Simon Campbell.

Blending Americana, blues and contemporary folk, the music reflects Simon's increasing love of acoustic instrumentation and both electric & acoustic guitar from both sides of the Atlantic.

Exploring sounds from the Blacksmith's hammer to the Melodeon & Hurdy Gurdy, the album also features Suzy Starlite on vocals and Mellotron plus Christian Madden on Hammond organ (Liam Gallagher), BJ Cole, Andy Cutting, Dave Formula, Malcolm Stitt, David Kilgallon, Keith Angel and Andy Seward.
Premium quality Compact Disc of 'The Knife'
Simple, environmentally sustainable gatefold card wallet
Immediate delivery of the mastering high-quality 24-bit/96 kHz .wav digital download
Featuring the first collaboration between Suzy and Simon on 'Do You Want Me'
Tracks
Broken Man
Dreamer
The Knife
Affairs Of The Heart
Do You Want Me (featuring Suzy Starlite)
Sorry I Broke Your Heart
The Man
Musicians
Simon Campbell: Vocals, theremin, electric & acoustic guitars | Suzy Starlite: Mellotron, lead and backing vocals
Featuring
Pedal steel guitar: BJ Cole | Double Bass: Andy Seward | Drums and percussion: Keith Angel | Hammond & Wurlitzer electric piano: Christian Madden | Wurlitzer electric piano: Dave Formula | Melodeon & Hurdy Gurdy: Andy Cutting | Bouzouki & tenor guitar: Malcolm Stitt | Harmonium & grand piano: David Kilgallon
Credits
Produced and engineered by Andy Seward | Assistant engineers: James Mottershead, Keith Angel | Recorded at Wavelength Studio's, Doncaster; the Chairworks, Castleford, England and on location in Erin Arts Centre, Isle of Man; Simon's home studio and Andy Cutting's shed | Mixed at the Chairworks, Castleford | Mastered by Jon Astley of Close to the Edge Mastering | Lacquer Cutting: Miles Showell of Abbey Road Studios, England | Photography: Phil Kneen | Cover Design: Barry Kinder and Daren Newman | Music and lyrics Simon Campbell except 'Do You Want Me' by Simon Campbell and Suzy Starlite and 'Broken Man' by Simon Campbell with lyrics by Tim Wright | Made possible by the kind support of Culture Vannin and the Isle of Man Arts Council.

℗© 2014 Supertone Records, London, England