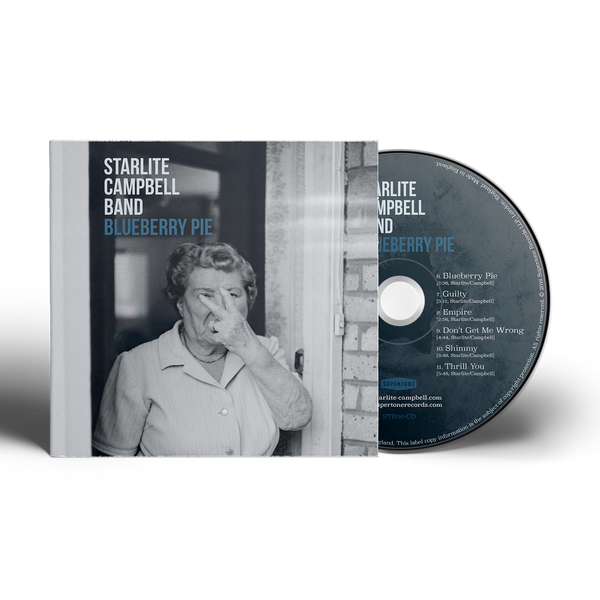 Blueberry Pie | award nominated album | CD
Downloads include choice of MP3, WAV, or FLAC
'Blueberry Pie' is the exciting award-nominated debut album from the Starlite Campbell Band.
With their fresh taste of original '70s British rock & blues, husband and wife duo Suzy Starlite & British blues award nominee Simon Campbell have been on a roller-coaster full of surprises and musical adventures following the release of 'Blueberry Pie' with rave reviews worldwide and a prestigious nomination for Best Album in the European Blues Awards.
With extensive international radio play including BBC Radio 2, charting top 10 in the UK, Australia, The Netherlands, American Blues Charts and nomination for a Power Blues album (France) plus receiving over 60 four and five-star reviews worldwide, the band have played all over the world from headlining a major festival in their Australian debut to main stage performances at The Great British Rock & Blues Festival in the UK.
REVIEWS
"Blueberry Pie is a great album" | Cerys Matthews, BBC Radio 2 & 6 Music

"Dare we say, their debut release on the Supertone label, Blueberry Pie, will be taking the Isles, nay, the world, by storm." | JD Nash - American Blues Scene. USA

"This debut has the songwriting nous and musicianship to prick up your ears." | Classic Rock Magazine

"Unquestionably Blueberry Pie is a stunning debut." | Morgan Hogarth: Rock 'n Reel Magazine
Blueberry Pie - double 180g vinyl album
Premium quality Compact Disc of the 2017 album 'Blueberry Pie'




Simple, environmentally sustainable gatefold card wallet with

cover photograph taken and processed on film by Suzy featuring her nana 'Betty'
Immediate delivery of the mastering high-quality 24-bit/96 kHz .wav digital album download
Tracks
Walkin' Out The Door
I Need A Light
You're So Good For Me
Cry Over You
Say What You Want
Blueberry Pie
Guilty
Empire
Don't Get Me Wrong
Shimmy
Thrill You
Musicians
Suzy Starlite: bass guitar, percussion & vocals | Simon Campbell: guitars, percussion & vocals
Featuring
Steve Gibson: drums & percussion | Jonny Henderson: Hammond organ and Wurlitzer electric piano | Special guest Danny Boy Sánchez: harmonica
Credits
Music and lyrics: Suzy Starlite and Simon Campbell
Production and engineering: Simon Campbell | Assistant producer/engineer and cover photograph: Suzy Starlite | Recorded at Supertone Records, Valencia, Spain | Lacquer cutting: Miles Showell, Abbey Road Studios, London, England | Mastering: Jon Astley, Close to the Edge Mastering, London, England | Photography: Cristina Tejeda | Graphic design: Chris Watson
Special thanks to James, Joe and Christina Campbell
℗© 2016 Supertone Records, London, England